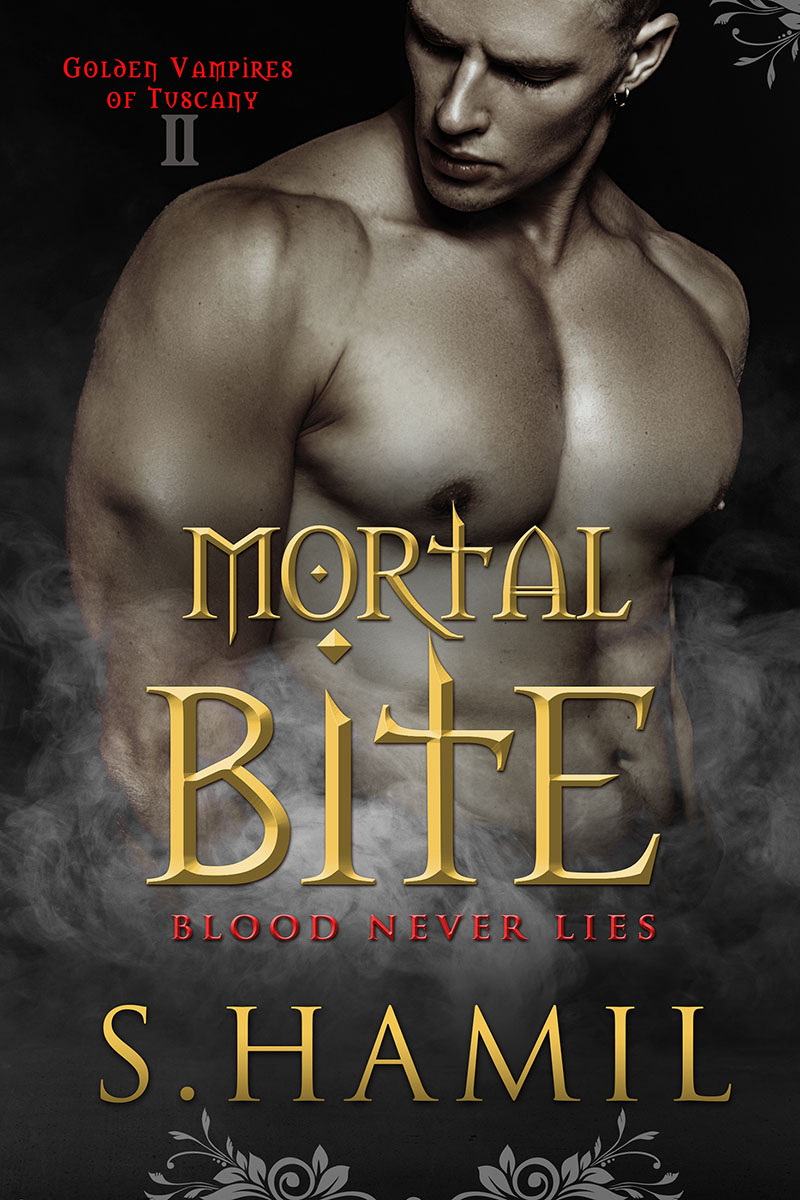 Golden Vampire Paolo Monteleone begins raising a son he did not know he fathered, after the murder of the boy's mother. He meets a beautiful human college professor, Carabella Sampson, at a Halloween costume ball. She is an expert on vampire lore, but doesn't quite believe in their existence. Paolo dresses up as himself: a vampire.
A dark coven leader has targeted her for elimination, before she can reveal secrets of the Golden Vampire lineage she's obtained from an ancient book. Can there be a happily ever after if either his lover or his young son has to pay the ultimate sacrifice to protect the Golden Vampire race? And how in the world will Paolo be able to choose which one to save?
Read an Excerpt
Your food, Carabella," Paolo said as he leaned very close and whispered in her ear. The feel of his warm breath on the side of her face brought her gently out of her trance. One hand rested on her shoulder, and the other offered a plate of crisp romaine covered in slices of chicken breast and grated Romano cheese. He sat across from her and raised his wineglass. She raised her iced tea and sipped, dropping her eyes. But he did not. "You aren't eating?" she said. "My schedule's been hectic. I ate something earlier. Sorry."
She shrugged her shoulders and breathed in deeply to gather herself. She picked up her fork and began to dig into the salad. He was leaning back, tipping the wooden chair, and smiling right at her.
"Have we met before?" she asked between bites.
Whatever are you doing? Where did that come from?
"No. I think I would have remembered." After a brief pause, he added, "Why do you ask?"
"It's just the way you…I don't know. You act like you know me. Like there's some joke I'm not privy to."
His face dropped the smile and he adopted a serious tone. "I'm not joking with you. And I'm sorry if I make you feel…uncomfortable."
"No, it's just me. I spook easily."
"No doubt due to the dark creatures you study all the time."
Cara had to agree he was right. "My friends say I find conspiracies behind every corner, mysteries everywhere. Drives them crazy sometimes."
"But it's what you love."
It was a strange thing to say, but again he was right.
He leaned forward, resting his elbow on the table, and continued. "Studying mythology and symbolism makes you seek out and notice the unexpected, and things that can't be explained easily."
"Like vampires."
"Exactly."
"But you don't believe they exist."
"God, no." Her hunger evaporated. "I'm going to take this home and have it for dinner." She got up and requested a take-home box. After the server left she transferred most of her salad to the cardboard carton. "I'm more thirsty than hungry right now for some reason."
He nodded.
Cara drank some of her iced tea and crunched on the ice chips. Placing the box and her plate to the side, she leaned onto the table and asked him, "So, what did you think of the ball?"
"It was wonderful. The first one I've been to in many years. I've missed them. The costumes were…over the top."
Cara laughed, thinking about some of the outfits. "I'd say you have a fondness for little green faeries."
"I admit to it," he said with his hand to his heart. He leaned toward her. "But my fondness for angels is unequaled."
Cara could feel the blush coming on, and suspected the top of her chest was covered with blotchy red marks. The centers of his eyes took on an iridescent coppery glow, as if small bonfires resided there. He dropped his eyes to her heaving chest and she allowed herself to be admired. When their eyes connected again, something was understood between them.
What is this?
"I'd like to hear about your studies, Cara. May I call you Cara?"
"Please. Well, I became interested in the myth of the vampire because of the symbolism. They represent the ultimate alpha male figure. Strong. All-powerful. Dominant and controlling. Immortal. The ultimate bad boy you wouldn't want to bring home to meet your mother."
"Interesting. Go on."
"Women read romance novels today because they are looking for the hero in their fantasy life they would never find in real life."
"And you think that's wrong?"
"Of course not. I read romance novels all the time, especially paranormal romance, with vampire heroes."
"For pleasure?"
"Yes."
"And so you began studying them?"
"Well, no. I am new to reading romance. Probably a good thing, too, or I would have never made it through college. Hard to tear me away from my favorites."
"You like your alpha males."
"Love them."
"And do you have alpha males in your real life?"
It was a very personal question and it brought her up short. She grabbed for her iced tea, swallowed heavily and averted her eyes. With her forefinger, she traced the beads of vapor on the outside of her glass of tea. He was very still, awaiting an answer.
"I think the answer to that would be no," she said to the top of her glass.
He squirmed in his chair, recrossing his long legs, tilting slightly back again. "Tell me more."
"About my studies or about alpha males?"
"Whatever you want to tell me. Tell me something I wouldn't think to ask you."
Another strange question. His proximity made it so she couldn't respond to the alarm bell sounding somewhere. It was like her body wanted to, but couldn't for some reason.
"I've recently discovered some books by a 19th century Scottish theologian and scholar. He claims to have located the first written recordings of vampire myth. He found evidence of stories of raising the dead, giving life. Sort of like what we read about in novels about a turning."
"Vampires turning humans. Into vampires."
"Yes. Only this clergyman claims there was a group of people who worshiped and studied these myths shortly after the time of Christ. He wrote that there were people who practiced these black arts, but also practiced what he calls the Divine Coupling. Like there's some blood mating ritual."
The smile had erased from Paolo's face. Cara knew she'd lost him again.
"I'm sorry. You asked me to tell you something I wouldn't have normally, and I can see this was a mistake."
He was watching her fingers move up and down her iced tea tumbler. "Couldn't these texts be explained away as just a healthy curiosity in sex? It has been something men and women have worshiped and studied for centuries," he finished.
"No. Well, maybe for others, but that's not why I'm interested in it. If it's true, he may have stumbled on the secret to immortality. I don't think it was about the sex. It was about living forever, and dealing with living forever. What does one do when one lives forever?"
"He drinks port?"
She smiled, glad he wasn't taking her seriously. It didn't hurt her feelings in the slightest. "I keep wondering what sex would be like after having a thousand years of it. Maybe the temples were built, the religion of the divine coupling was created, to fill the needs of a bored society. Maybe some of them didn't want to live forever, and that was a problem for them."
"Why do you say that?"
"Because I think they lost their immortality. On purpose. Chose to be mortal. That's why they and most of the evidence of their civilization disappeared."
© Sharon Hamilton
Books in the Series