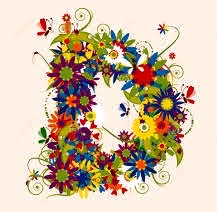 D is for Discipline #atozchallenge – Am I truly grateful for this?
Discipline in Blogging for #AtoZChallenge!
Well, I was going to pick Dogs, Do-overs, Dumb Stuff, but I guess that's why Discipline is so important today. Let me explain.
My letter D (above) doesn't look like it would belong on a Navy SEAL Sweatshirt, does it? But it is very important, and here's why. We are the sum of all the life experiences we've had. As a storyteller, I spin these stories, placing one flower here, or a vine there, a color here or there, and all of a sudden we have a bouquet, a tapestry of stories filled with emotion. These come from my past, from my fantasies, from the future, from others. Who really cares where they come from, as long as, being a writer, it isn't plagiarized.
And here's the gratitude part (my theme for the month). Thank goodness we have all these experiences. Thank goodness we have the variety, color, the pain and the joy of living. Thank goodness we have more than enough to choose from.
Discipline means to Decide. To "kill of other options." In a world where we are lucky enough to have so many options, we have to learn to pare down to the useful and focus on our goals, or out energy gets pulled away, wasted, if you will, in thousands of different direction.
The word Decide has the ending like other "cides" – and I know you can creatively think of them on your own. We choose what to let into our lifespace (my new favorite word), we choose what stories to tell. In terms of working with addiction issues, we learn which Dog to feed. We starve the dog that isn't good for us, and feed the dog that brings about all the miracles. Sometimes we are drawn and choose unwisely. Then we get a do-over the next time it comes up.
Here's some Double D's – my favorite thing to write about (crazy, I know). But I just love my heroines to be big chested.
Yes, I think these are DD's
Now, that's a lot of dumb stuff, but I managed to include all my words, weave them together with today's word, Discipline.
What Dog are you feeding and what Dog are you starving?