Start Reading Back to You Tomorrow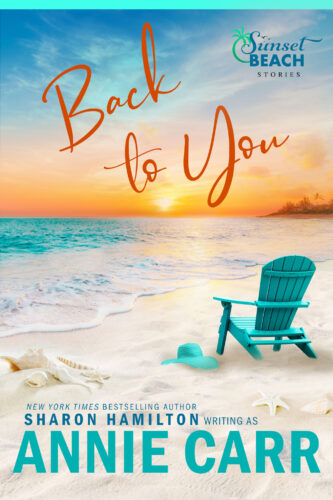 Back to You, the second book in the Sunset Beach Stories series that I write as Annie Carr, releases tomorrow and I wanted to make sure you have a copy reserved so you can start reading right away. You can pre-order the book at Amazon, Barnes and Noble, and Apple Books. The Kobo link will be available on the Back to You page on this website within the next couple of days.
You don't have to read I'll Always Love You, the first book in the series, as each story stands alone, but so many of your fellow bookworms have read and reviewed it. You don't want to miss out on escaping into that heartwarming story.
That's the reason I read – to escape life for a little while. No matter what problems life throws at me, I can steal away into the garden with my butterflies and enjoy some time with them and whatever fictional characters hold my interest in those precious moments. I'm sure you understand what it's like to disappear into a book for a while.
And that's what I hope that the books in the Sunset Beach Stories series can be for you, little escapes away from the trials of daily life so that you can relax, laugh, and maybe shed a tear or two as you experience all the emotions with the characters in these stories.
ABOUT THE BOOK
Sometimes love is sweeter the second time around.
Tested by the years of career ups and downs in New York, attempting to salvage a loveless marriage for the sake of his daughters, science fiction bestselling author Frank Borges always wonders what happened to the girl he left behind when he vacationed in Sunset Beach, Florida in order to write his next novel.
Carmen remembers the troubled man who poured over his writing like a fiend from the black lagoon. His struggle with alcoholism and neglect is a difficult enemy to overcome, yet she tries, as she begins to fall hard for this older man—who could never be hers to keep—to help bring the spark and magic back to his world. He'd been held in the vicious grips of debilitating writers' block, but Carmen's healing touch peels the negative layers away and uplifts him, restoring him to the power he once felt—the power he once had with his words.
But fate plays a cruel trick on them both when he is forced to return to New York to harvest the success and fame he's garnished at Carmen's hand.
What has made him stronger, invincible, also splits them apart.
He often wonders what ever happened to her—until he learns she has returned to where they began. Does he deserve a second chance at love?
xoxoxo,
Sharon
P.S. The books are standalone novels, so it's not necessary to read I'll Always Love You first. If you missed the first book in the Sunset Beach Stories series, you can learn more here: https://authorsharonhamilton.com/portfolio-item/ill-always-love-you.