Destiny of Love is Coming Soon!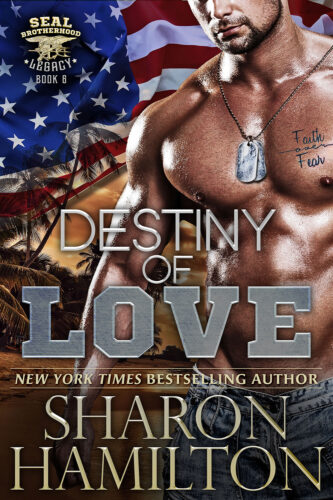 Do you believe in destiny? I hope you said yes…
Destiny of Love is the continuation story of one man's journey through PTSD toward healing and recovery, and then learning how to cope with new family issues while staying solidly in the healing lanes to another HEA. We all know that dealing with mental illness, whether it's hereditary or situation caused, can be a very rocky road to wellness, and some never make that journey successfully.
But as with all good heroic journeys, learning how to cope, how to love when everything seems to be coming apart, and how to grow while healing, is part of the package we call, "For Richer Or Poorer, In Sickness And In Health." The process isn't easy, but it is worthwhile, especially as Luke finds in his wife, Julie, the strongest partner any SEAL could ever have. I originally named this heroine Julie, after a dear reader and one of my very first supporters, Julie Beasley, from the U.K., who, sadly, has passed on. At the time, we all were excited when she won a contest and got to pick the name (her name, Julie), and we couldn't wait for her to hear J.D. Hart narrate her name several hundred times during the audio book, SEAL My Destiny. As I recently listened to this book in preparation for writing Destiny of Love, the story of Julie and Luke 10 years later, it struck me how many sex scenes were in the first book. (LOL). I think I did it so Julie got to hear her name being called out in rather erotic ways, and was definitely done for her benefit! I thought of her while I was writing this story. Sweet Julie, perhaps this book doesn't have as many sex scenes as the first one, but this one is still for you, and I know you're looking down on all of us enjoying your beautiful name and character playing her drama here below. We all love you still. Hope you all will enjoy this journey we all take together, some of us sitting in different gardens of the heart. Enjoy!
About the book: Destiny of Love
The heart has no limits. Love grows from tragedy.
Luke and Julie adopt his sister's and her brother's three children after their parents are killed in a traffic accident. Suddenly, their finances take center stage as they embrace their new blended family just at the point where Luke had been planning to leave the Teams and Julie was in line for a big promotion.And he was made for this!
But being a man of action with a somewhat fragile ego, will assuming the role of stay-at-home dad, changing diapers and wearing an apron fill the billet while Julie becomes the sole breadwinner? And what happens when an investigation into the car accident reveals perhaps it wasn't? As danger lurks all around them, Luke discovers his new unexpected role of family protector is one he's been rehearsing for a decade.
Ready to start reading? Reserve your copy today!