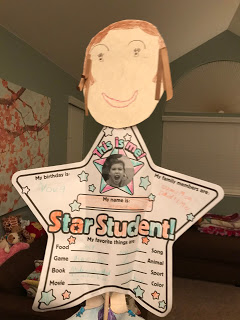 BEING A BEST FRIEND AND BIG SISTER TO MYSELF
The recent celebration with my granddaughter, who was chosen as Student Of The Month, inspired this post. Her standard, adorned with her funny picture and smiling face, chronicles all her favorite likes. It is an award for the whole student she is, not just the academic part. It's a "Hey, look at me, and this is who I am!"
Social media has made it possible for me to interact with my readers and other author friends, essentially saying the same thing: "look at me!" I work on writing things that readers and others will want to hear about, not just about my books, but the journey, things that might be interesting about my life and the ups and downs of it. As authors, we invite others in. We call it "being sticky" in the business.
It takes years to develop a following, to brand a name or series, or to be known for something. And then we try to give readers something different, ask them to go on another journey, expand their tastes a bit. Sometimes it works, others it doesn't.
There is no magic formula. In the meantime, and between the highs and the lows there is one constant. For the most part, I think I've been pretty good with it: confidence in ourselves. My goal is to be a good writer for my readers, but for myself, my job is to stay positive, and to continually be my own best friend.
I've probably told this story before, but one day in Real Estate I'd listed a big home, got another one sold, made my designated number of contacts (44 per day) and coached several other agents on coaching calls. I closed a big escrow. It was a huge day for me, spoken in terms of "deals" as 7, my record at the time. I was on cloud 9. I drove home, and on the way passed a house with a competing sign in the front yard. Those were my people! How dare they? But the truth was, they'd chosen someone else when I thought I had it in the bag.
I drove up my driveway feeling dejected, a failure. I was grumpy and tossing things around, making lots of noice in the kitchen. My kids picked up on it immediately and we discussed it. "What do you mean, Mom? You had a great day!"
And they were right. I'd forgotten the cardinal rule of mine, a rule I'd taught agents for years: "Give yourself that pat on the back. Be your own best friend first." By being upset I didn't do 100%, I completely wiped out all my previous wins. Big mistake.
Writing is lonely and most people would be surprised to learn how insecure we can be as writers. We wonder what happens when a reader we used to hear a lot from doesn't communicate any longer. We think it's us, and not something going on with them and their lives. We take compliments sometimes and judge the sincerity of them when we just should be grateful for the compliment in the first place! We don't encourage ourself or celebrate our wins.
I'm going to a collage/art class today up at Bishop's Ranch. It's the first class in a series of 5 given by the resident artist there. Like when I quilt and when I garden, doing something else than writing brings me new life and I come away feeling so good about myself and what I'm doing. I'm launching into two new series, and completing one trilogy. Spring is almost here and my daffodils are coming up.
Loved this blog post the other day, here,  which talks about some of the same issues. Have a fabulous Sunday my lovelies!!
Remember, you are exceptional!!