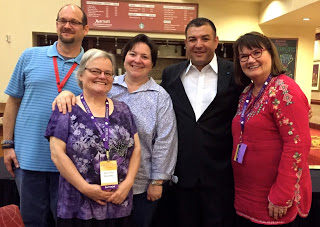 Red Friday Post – This Is Why We Wear Red on Fridays
I'm at Lori Foster's Reader/Author event #RAGT15 in Cincinnati. It's the first time I've been here. Met up with good friends J.M. Madden, Bruce and Donna MacDonald, Karen Henderson, April Allen, Sabrina York, Darynda Jones, Kallypso Masters and the lovely Charlotte, and many many others. If I try to name them all I'll forget one and it will ruin my night.
Bruce met and introduced us to Master Sergeant Leroy Petry, a proud veteran now a motivational speaker, who is a common man who did uncommon things. In fact, he was so uncommon, he was awarded many ribbons and medals, including the Army Commendation with two Oak Leaf Clusters, the Purple Heart, Bronze Star with a bronze Oak leaf cluster, Legion of Merit, and The Congressional Medal of Honor.
Code Talker quilt


If you read about him in the link provided, you will find he also attended Indian school near Santa Fe, New Mexico. A statue of his likeness is located today at the Pojoaque Pueblo. I believe this fine warrior is Native American.
As I read further, I found this:
Tattered but still there
A Taliban fighter threw a grenade at their position which landed 10 meters from them; it detonated, and the blast knocked the three soldiers to the ground, wounding Higgins, and further wounding Robinson.
[3]
 Shortly thereafter the three were joined by Staff Sergeant James Roberts and 
Specialist Christopher Gathercole
. Another grenade was thrown by a Taliban fighter which landed a few feet from Higgins and Robinson. Petry, knowing the risk to his life, moved toward the grenade, picked it up, and attempted to throw it in the direction of the Taliban.
[7]
 Petry later recalled his immediate reaction was "get it out of here, get it away from the guys and myself. And I reached over, leaned over to the right, grabbed it with my hand, and I threw it as hard as I could, what I thought was at the time. And as soon as I opened my hand to let it go, it just exploded instantly. And I came back, and the hand was completely severed off."
[8]
 The detonation amputated his right hand, and sprayed his body with 
shrapnel
.
[9]
 In throwing the grenade away, Petry likely saved the two other soldiers from serious injury or death.
[10]
[6]
Petry placed a 
tourniquet
 on his right arm.
[1]
 Roberts began to fire at the Taliban fighters, 
suppressing
 them in the courtyard. An additional fighter on the east end of the courtyard fired,
fatally wounding Gathercole
.
[3]
 Higgins and Robinson returned fire, killing that fighter.
[1]
 They were then joined by Sergeant First Class Jerod Staidle, the 
platoon sergeant
, and Specialist Gary Depriest, a 
medic
. Directing the medic to treat Gathercole, Petry was assisted by Staide and Higgins to the
casualty collection point
.
[3]
There are no accidents. I was meant to meet this fine young man who sacrificed himself that day to save others, and who fought to protect our way of life. What I didn't know until I got up in my room and began to read the information on Petry was that he served with a young man our family knew from Sonoma County, Chris Gathercole. Every time I mail a package to some one of my fans, I see Chris's picture on the wall at the Santa Rosa Main post office, along with the other dozen or so brave young men who lost their lives and are honored there.
And next week when I go home, and mail my next package, I will look at Gathercole's picture, and I will silently thank him again, and let him know his teammate fights on for all of us. Because although Petry is now retired from active duty, there is still much work to be done amongst the community. My job is to watch, pay attention and record or bring light to it.
And to enjoy my life to the fullest. Thank you, Staff Sergeant Petry, and Specialist Chris Gathercole, for protecting my freedom with your precious blood.