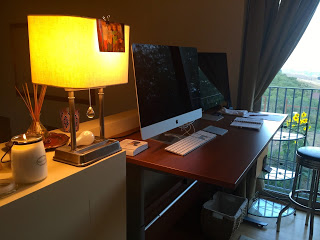 SUNDAYS WITH SHARON: Worshiping At the Altar of My New Computer
WORSHIPING AT THE ALTAR OF MY NEW COMPUTER….
Cleaning up my desk is good for my muse! The clutter-free space allows the stories to flow, allows me to get into my stories. It helps that lately I've been taking naps in the afternoon, and writing at ungodly hours of the AM, and late at night. I actually prefer it when I can have total and utter silence, except for the music or things I select to alter my environment.
My computer was acting wonky. That is a technical term. And yes, it did blow up and had to have a data transfer. I'm always part of it, but this time, I think "it" was feeling "unwell." I was forced to be off most social media for 3 days. I almost went through withdrawals, but my muse was dancing a jig.
So off I went to the Apple Store, and they hooked me up. Got another iMAC with a Thunderbolt accessory screen, so I could have a larger desktop. And like I said in my title, I'm worshiping at the altar of my new stand-up adjustable desk and the beautiful MAC computer and display. I'm in Heaven. Even my sunflower outside the second story window is happy.
I read a little bit in a mental warfare book that's part of my daily devotional at sunrise, and the message for today was about being focused. How perfect.
Environment makes a big difference to me in writing stories, especially stories that have to have emotion to make them believable, and "hooky" to readers. My son has recently gotten a part time job at my favorite country inn here in Sonoma County. It was rated the best country Inn in the whole US some years ago. In my books, I call it the "Waterwheel Inn", but its real name is the Kenwood Inn. I go there sometimes to hole up and write, away from my normal life, the barking dogs, the work being done on the house, where I can order room service, sleep in a big bed like my heroes and heroines do, write by the fireplace all night or all day long.
Some of my best sexy scenes have been written here. I've spent some verra verra nice Valentine's Days here, too. Some of the upper rooms have views of the Kunde Winery across the highway (it's only 2-lane, Highway 12 that winds from Santa Rosa through Sonoma and on to Napa). The lobby is decorated with old map drawings like in my yet to be finished time travel, Be With Me. Maybe my muse is taking me on another wild ride, but I have 2 SEAL novellas to finish this month, and I'm trying to focus on those while the luscious story of this WIP calls to me, like a hunky lover in a dream. And what's so funny, is the hero in this story comes to her from a hundred and fifty years in the past the same way.
So, I'm enjoying my Sunday, reading in a new world I'll be writing in for Cat Johnson, her Hot SEALs world, finishing up that and one other committed novella before I head off to Florida for the Indie Bash in Orlando, and then a week with the grands at Disney World.
But my muse is sitting with a pitcher of Sangria, listening to the music "Lips Taste Like Sangria". And I'm really sitting on a beach near Nelson's Dockyard on Antigua and writing another story, in another place in time.
To celebrate the release of our 15th audio book, J.D. Hart and I are offering a free audio book from Sharon's backlist, including the brand new SEAL Brotherhood Box Set No. 2.  If you want to enter, leave me a PM on my Sharon Hamilton author page on Facebook.