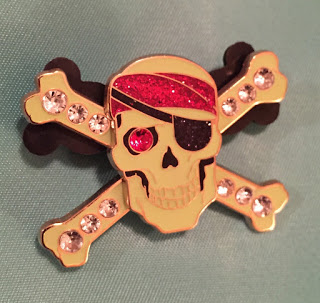 SUNDAYS WITH SHARON: Disney Touch of Magic
I traveled home to San Francisco with this pin on my chest. I wore it proudly, like a true time traveler, reminded of my six days at Walt Disney World and the magic it inspired in me. I once got to spend some time with a long time friend of Disney, who told us tales of how the original park was built, the obstacles Disney overcame, and the vision and dedication of "getting things right," from the simple to the complicated.
At every turn, the branding that Disney does is consistent. Bus drivers to and from the parks play videos, and even the shuttle going from our Animal Kingdom Lodge and the sister lodge on property pumped in African songs, just like the lobby of the hotel. I have never been to a hunting lodge at Lake Tanganyika, or ridden the train to the Mountains of the Moon west from Kenya into Uganda, or stayed at the Treetops Lodge, but I'll bet some of what Disney created would feel similar. Sitting out by the pool, I got to listen to the piped in music of my favorite African performer, Samite and his lovely voice. The rhythms he plays are universal and would find a home in many genres, including folk and country. If you want a history lesson on some of the hardships he endured growing up in East Africa, you can read more about him here. A voice of inspiration and hope for a world that needs so much of it.
I admit, I have a problem.
I have to admit that, during this trip, I got my family addicted to collecting pins. I'm not proud of the fact that I spent easily a day or two's lodging on getting these pins, then trading them all over the park. It gave us something to do during those long line waits. We scouted out clerks and customer service reps who had whole books of pins we could trade, just two at a time. But if going overboard is a religion, I am a true believer. Those that know me well know that I don't do things half-way. Throwing myself into the pin trading game, including learning to negotiate with my very savvy 6 year old granddaughter (who really didn't need her parent's help to draw her line in the sand) was one of the highlights of the trip.
My second favorite.
My granddaughters got to be made up as princesses. Not sure what I was expecting, but walking into a magical makeup room, set with at least 10 beauty stations, all manned by Fairy Godmothers, making their little charges into princesses, was just simply enchanting. The message was clear: anyone can be a princess. To watch the little girls walk out of that dressing room, transformed into a make-believe character, and expecting a happily ever after was awe-inspiring. The old cynical me, before children, before grandchildren, would have said, "For what purpose? They're living a lie."
Not true. It's fantasy. The stuff of fairy dust and happily ever afters. The things your heart dreams about when you let it follow it's natural course. All things seek love. When you realize this, the world suddenly becomes a different place. We are lucky enough to be able to feel it every day in our lives. Our destiny is to spread it all over the world. It's the only reality we can truly create, after all.