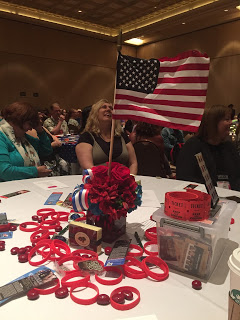 SUNDAYS WITH SHARON – Goodbye to Vegas – Home to my own bed!
Romantic Times Book Convention was one of my best. Although they seem to get better and better for me each year, I think I'm finally beginning to figure things out. I gave away about 60 books, and met some wonderful new readers. Sold a bunch of books this year, more than I'd planned on. Met with author friends, did one panel on Heroes Out Of Uniform, which was moderated by Gennita Low – many people said it was the best panel of the whole convention. Participated in the Military Tribute (thank you Elle for organizing it), and of course rewarded my new recruits with swag and tee shirts.
Lucky to have one of my readers who attended my Coppola book signing in Sonoma County, come to this event to sit at my table.
Got to mention the Operation Aloha Shirt Quilt and sold out of raffle tickets (wish I'd brought more).
Met with Cissy and Susan at Writer Space, who do my newsletter and so much more.
You can see my interview with this handsome cover model on my RB4U Blog post last year here.
We are a community of writers. I always like spending a lot of time in my writing cave, which is what I have to do when I get home, but without our writer friends, and the suggestions they make (I am a big one on asking questions and getting information), I wouldn't have the kind of career I am lucky enough to have. My readers wouldn't get as much from me, either.
So, from the Erotic Museum, to the rooftop gazing at the VooDoo Lounge, the Club RT and the Giant Book Signing, I go away with happy memories of hard working authors dedicated to their readers. The work ethic and professionalism of our industry, fueled by such fandom, is outstanding. I am so inspired to go home and write my heart out for all of you who take a chance on my books.