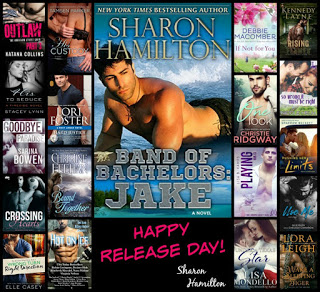 RELEASE WEEK! A New Bachelor is Released: Jake
On Tuesday, we release Book 3 in the Band of Bachelors series (part of the overall SEAL Brotherhood series). I've had a great time writing this hero.
I have a printable book list on this website, if you go back to the Home page. That will give you the reading order, and the series, as well as other books, box sets, and novellas.
So here's how I got the Band of Bachelors. I was going to do a SEAL for Cat Johnson's Kindle World. Cat is a good friend of mine, and a great writer. I got Lucas' story done in novella format, and then had to change plans. So this book became a full length novel, Book 1 in the Band of Bachelors.
All my books are part of the overall SEAL Brotherhood series. My publicist at the time told me that I shouldn't have long series. So I decided to break up the titles to focus on the unique group of SEALs in each group. In real life, there are different types of SEALs. Ones that stay in for twenty years, married and divorced SEALs, SEALs who get out after six years, ones who are single, ones who are happily married, ones who have to roll out due to injuries, and everything in between.
So my Bachelor SEALs then are those who have been married before, and either get married multiple times with kids all over the place (like my Jake), or go through messy divorces. The one thing they have in common is that they rely too heavily on their own form of Bachelor advice. They live like a bunch of bachelors, and haven't yet figured out what all the fuss is about housekeeping and decorating a home. In fact, they are enjoying the fact that they don't have to do that anymore.
But one by one, they fall. I love the concept.
In contrast, my Bad Boys of SEAL Team 3 are men who grew up on the wrong side of the tracks, from often foster care or tragic family lives. Men who found their true calling by becoming a SEAL. Of course, one by one, they each find their Happily Ever After, and rise to become the warrior they were destined to be.
True Blue SEALs is going to be a series of injured warriors, starting with Book 1, Zak. This story was based in part on the story of Adam Brown, who lost an eye and then have to re-qualify to go back on the SEAL Teams. Very inspiring true story. I used the idea of what impact a freak injury can have on the life of a warrior. Zak of course opens the door to the winery life in Sonoma County. I wanted to be able to include that in the future for some of the guys who get out and go on with their lives.
Nashville SEALs was inspired in great part by my narrator, J.D. Hart, sort of as a romanticized version (although J.D. needs no enhancement) of his early life as a country-western star in Nashville. In getting to know him over the twenty plus audio books we have done together, his story came out, and I asked for and received permission to tell an exaggerated tale of it, tailored to my SEALs. He could have been a bad boy, but I don't see J.D.'s young single life as being bad at all. But that's just me. My hero is the same. He gives more than he takes, but he decides there's more to life than backstage hookups and short term relationships, and rises to the call.
And now I have the Trident Legacy, my first paranormal SEAL. Tay Demmett makes your acquaintance on 3/28/17 when Kathryn LeVeque and I release the duet Trident Legacy. I hope you will go buy that book as soon as you finish Jake.
What's next? It will be another SEAL story, in one of these series. It might be Bad Boy #4, Bachelor #4, Tay's full length story, another SEAL Brotherhood story in the original series, a continuation of Lizzie and Jameson's story, or a continuation of Fredo's Dream with Fredo and Mia.
In any event, I hope you use this as a reference to what has come before, and where I'm going. After all, it's been a fun journey and I couldn't do it without you, the readers, and my wonderful sister authors, who have taught me so much.
Thank you for a great year so far. I've only just begun!!