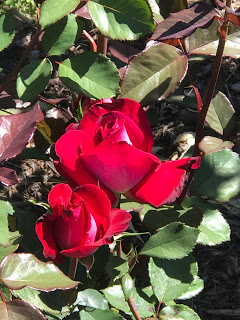 There are certain times of the year that are just lush. That's the best way to describe them. In Northern California, we've had a lot of rain this spring, and even some last week, which is nearly unheard of. So the weeds are crazy strong, but so are the plants when I can weed them.
Never seen so many rose blooms. The soil is just perfect for working in it. I've lost my fingerprints from patting down soil around new plants. My toes and fingernails look like I lived in the time of Outlander, they are eternally black around the edges, no matter how much I scrub. Good that it doesn't interfere with my writing – except these times I make sure to use a keyboard protector!
Because of the weather, and our schedules, our garden is very late. So these pictures, compared to last year, might look less full. Have no fear. As my favorite sign says, "My Garden Isn't Dead. It's Sleeping."
So I've planted literally about 100 little flower transplants and bulbs. I should be good in about a month with some lush pictures, if I can keep them properly weeded. I went all out and planted 9 melon plants, including 5 watermelon mounds. We heard that the rind is actually very healthy – more so than the fruit, so we'll be adding these to our healthy smoothies this summer.
My peas are just starting to peek out and I hope the shady area I grew them will help promote some yummy pods. I have yellow, purple, French and Blue Lake beans. I've planted a dozen asparagus plants, 3 new violet artichokes and a couple new green ones. I planted about 50′ of potatoes, with the onions around them (my only tried and true remedy for gopher and mole control). I've got red cabbage, red cauliflower. Celery and yellow beets. Seven kinds of cucumber including Armenian, Burpless and a new Russian variety (how appropriate, right?). I am babying some volunteer turban squash, hubbard squash, zuccini, and patty pans. And of course, 14 tomato plants of all varieties – several cherry (chocolate, yellow and red) and two Heirloom brands. My lettuce is doing great. I have onions all over the place. I was delighted to find a new variety of Hydrangea – nice and purple.
We are checking our watering on the roses, and the fruit trees and discovered our apple tree had termites! Yuck. Sprayed that sucker with that tar spray (only thing in my garden non-organic) and will fill up the hole they've eaten in the trunk with (you guessed it) concrete! We always have that lying around for repairing our rock walls.
So while finishing this next book, Paradise, I'm watering, planting and doing other things outside to get me moving and stimulate ideas. It is a great way to craft a love story.
I'm not sure whether the love stories inspires my garden or my garden inspires my love stories, and I don't care to find out.
All I know is, it's lush here in Northern California. I don't travel for a couple of weeks, and, being a Taurus, I'm very firmly planted in the soil of my garden, even though my head and heart is in the clouds.
Enjoy these last few days of May.
And who could forget Richard Harris with this timeless piece.