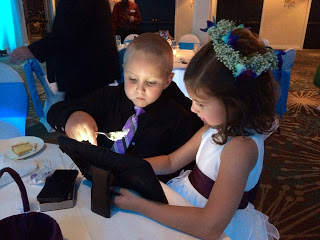 Is It A Battle or A Marriage? Creative Brain vs. Logical Brain
I always told myself that I loved writing my stories so thoroughly that I would never experience burn-out, or need a break. I told myself that was what other authors did who perhaps had overwhelming things come up in their lives: family concerns, economic downturns or just life in general, and this somehow wouldn't apply to me. Because none of these things would happen to me. I always thought of myself as bullet-proof. Unstoppable. I'm a great one for giving this kind of advice too. Just ask me.
And then June-July of this year happened. I can't say what it was. I knew something was up (still in denial mode) when I knew I shouldn't read my reviews and couldn't stop from doing so, when friends who had phenomenal success suddenly made me feel like a loser, or when I made up stories about the significance of book sales, how fast people got back to me, and on and on and on it went. You know the drill. Your mind goes on a dribble like chasing oversized zucchinis down a hill. These lumpy thoughts felt like my brain was filled with busy little ants trying to make a kingdom of my gray matter.
Seeking vehicular meaning. Not.
Every one of my calendars was still on July, until last week. My desk looked like a hamster was nesting there. I hated to check social media, stayed off Facebook and especially Messenger, but a few got through. When people started thinking perhaps I was dead, I had to laugh. Even then I didn't respond sometimes. I know. It was selfish, self-absorbed, poor manners. But I needed a break.
This December 15th it will be ten years since I started writing. It will be eight years since I published my first little novella, and five years since I published my biggest seller, Accidental SEAL, my first book to take off and begin to make some serious money. I've taken roughly sixty online writing classes, attended about a hundred RWA Chapter meetings, attended probably close to that number of book signings and online FB events. I have a huge following and newsletter list, and lots of adoring fans who fill me with delight. So, what's the problem?
The emergency brainectomy of life.
At first I thought I'm boycotting social media because, after all, this last election cycle had to be one of the nastiest one in our history. I was so disappointed to read how my very good writer friends had positions I thought were crazy, or how they thought my positions were. I stopped talking politics except at home, but I should have stayed out of it there too. There was nothing redeeming on social media and I felt like a mouse in that enormous flywheel, running, running, running to catch up. I still missed things, deadlines snuck up on me, and others I had to just walk away from.
But social media wasn't the reason for my situation. Amazon wasn't the big bad monster interfering with discoverability and book sales. I wondered if my Red-White-and-Blue-Rah-Rah-Love-The-Military themes in my books were getting shoved down in the algorhithms. Was there too much competition? Or, did I not work hard enough? Did I believe in myself enough? Where was God, my family and my friends and how come they couldn't fix me? Help me?
I expected to look 20 when I peeled this off.
Facials and massages didn't work. The soapmaking classes, collage classes, walks in the park, gardening, starting a new business, traveling to Mexico, didn't work. I dyed my hair red, and that made me laugh, but it didn't put the fire in my soul. I listened to music, burned a ton of candles, stayed out in the sun as much as I could stand, and even tried to go vegan for awhile. I tried to read and couldn't get through any of the first chapters. I got more sleep than I've had in years. I cancelled seven events, dealt with a blood clot to my leg and a minor stroke my husband had. Everything is fine. No life-threatening things on the horizon then or now.
So, what was it?
It was my logical mind trying to do a BDSM session with my creative mind. It took special glee in whipping and tying my creative self up with "that doesn't works" and "you are so stupid" comments, humiliating that part of me where all the magic lives. And the longer it went, the more my logical mind tried to be in control. I was trying to figure it all out.
I love the story about the two dogs. One dog is the vicious, fearful one, and the other dog is the excited, loving and creative dog that loves affection, connection and that sense of coming home. That famous Native American story goes that we have to decide what dog we feed.
Word.
The only way through it is to give myself over to the Creative Brain. There is no real control, is there? We don't know why music fills our soul, or why flowers make us happy, or why sun brings us some sort of divine energy from the Heavens. Our creative side has no limits, no borders, no barriers and no regrets.
And it's a choice. That's what I've chosen.
Will I go back to being a social butterfly? No. I'm going to be careful. I'm going to pace myself. I'm going to be careful who I hang around, who fills my day. But I'm going to make most of it filled with my characters from the books. I've been missing them.
And unlike real life, I can have as many lovers in my fantasy life as I choose. I guess what I found, after all this wandering is not my brain, but my heart. Writing stories is the most enjoyable activity in my life. That's the dog I'm feeding.
What do you think? I'd really love to hear it…(kiss, kiss).