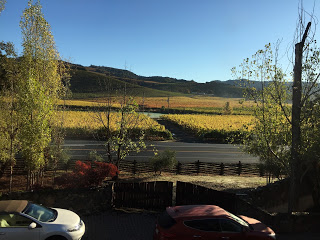 FROM KENWOOD TO LAS VEGAS – Slowing it Down and Heating it Up!
I just finished my new novella, Nashville SEAL. It is going to be included in an anthology coming out this December, called Holding Out For A Hero. I plan to release a print and audio version as well.
I've thoroughly loved writing this book, as I do all my books. These colorful characters come to life as I put the story on the page, and I see opportunities to add fun details, sketches of people who would fit in, or, in many cases, don't fit into the story – because I find the deets that don't fit in are sometimes the best and most likeable for readers.
Fireplace, tossed sheets, what could be better?
So I put myself up in the lovely Kenwood Inn & Spa in Kenwood, a place I have gone to before when I needed a story "recharging" and what I call growing the kernels of my story in my own cornfield.
It is impossible to live in a heightened state of emotional intimacy 24/7 with anyone, let alone a fictional character, but when I travel to some place like the Kenwood Inn, my regular life fades into the distance and I get to live in my story. I've heard other writers do the same. I try to pick not just a "motel" room stay unless I'm writing about college dorm life. In this case, I was writing about a young singer-songwriter who is experiencing a good degree of success, and decides he wants more out of life, right at the same time something very moving and important from his past comes back on the scene.
Wine bar writing
Room service keeps me in the story because I don't have to stop and prepare or share my dinnertime with anyone (yes, this is a solo trip, by necessity), I can go to sleep when I want to, stay up all night and write, edit and doze by fireplace. Just walking the grounds gives me ideas. I have a time-travel romance set in this location, and have referred to it in Underworld Lover, and several of my SEAL books. In my books, it's called the Waterwheel Inn.


With my chapters done and not polished, I decided to finish that job at Las Vegas, since I was going there this weekend for an author signing put on by my friend, Crystal Perkins. I've done events with her in the past. Met up with Lance Taubold, and met a couple of new shining stars in my collection of author friends. I have some posts planned later for that.
Everyone should lick responsibly, don't you agree?
So I ran across this store here off the Flamingo, called LICK. Okay, yes, it's a candy store, but OMG I should have shopped here before my bachelorette party at RomCon. Every imaginable thing that had to do with candy, and lollipops, and (ahem) licking, was present. The atmosphere couldn't be more different, but the end result: I still focus on the romance. Watched the beautiful Bellagio water shows several times, wandered along the promenade and did a little naughty shopping. Cherry stuff, like oh, warmers and such, lip gloss, and my Lick Responsibly tee shirt. Some of these things are going to have to stay private, but boy did I have fun! Love the beer cozies, don't you? Not sure where I can wear the tee shirt, but it could be a nice message to wear around the house. Oh yes, the tit mints are kinda cool too. Yes, I am two women wrapped up in one. Well, perhaps three or four, but if you can't have fun, what good is it to be alive?
Even got red Tootsie Pop glasses for my new Romance Rider!
And it gave the right amount of kink and spice I needed to polish the book to it's jewel essence. And I had fun in the process.
I go home to hopefully a pad ready for my Romance Rider, and now that the book is finished, I can start to clean out my office and get her all set up! Life is good!