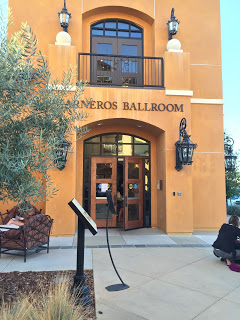 WRITE, PRAY, LOVE, WRITE PRAY INSPIRE, WRITE PRAY HAVE CONVERSATIONS WITH FEAR, PASSION, PERSISTENCE AND MY FAERY GODMOTHER
WOW. Just Wow. I spent yesterday at an all-day seminar in the beautiful Carneros Inn in Napa, with the awesome Elizabeth Gilbert. It was a gift to myself for a year of inspiration, frustration, tears and mostly wonder. I'm at the point in my career I'm ready to hit the re-set button. Taking classes outside of writing, more in inspiration, the brain function and what it means to be in connection and relationship. That goes everywhere. And right now all these thoughts are like a school of colorful angel fishes swimming around my brain as I write them down.
To say I got inspired is to say I am alive. Several things she gave to me, but the first one was her connection with her readers and her audience. Her new book, Big Magic, Creative Living Beyond Fear is a #1 Bestseller, and there is no wonder why. It is, as she puts it, her manifesto. I think every writer on the planet should read it. Here are only a few of the things that have settled in enough to be identifiable. And how perfect is it that I've booked a room at the Kenwood Inn for 3 days of writing, reflection and planning out next year's schedule for me. The Kenwood Inn has been prominent in some of my yet-to-be works, and some of my SEAL stories. I have an encounter with the uncompromisingly hunky Victorian British explorer in a time travel novel that is half finished, based upon bringing Sir Richard Burton (the explorer) to modern times, where he would have lived a perfect life. A man living before his time, for sure.
Anyway, that's another story or ten. Here's what I learned yesterday:
Have a conversation with Fear. Let Him Speak. Yes, for me, Fear is a man. He asked me some questions and suggested that perhaps I don't want to run away so fast from him, that his rooms were populated with some of the most interesting characters I've written, hope to write and real-life people who scare me with their brilliance. He was sultry and suggestive, I have to say, even sexy. Does that sound insane? He suggested I hang out with him more, that life would be a little more exciting, that he'd have my back, and would make sure I didn't really get into the kind of irreparable trouble I worried about…He asked me this question, "Sharon, when was it that you stopped riding on roller coasters you loved as a child?" And then he asked, "When was it you decided safe meant you'd live longer?"
Have a conversation with my Faery Godmother. She wrote me a long letter about what's in store for me. It involves dressing up in costumes, going to exotic places, going dancing in a big ball gown by candlelight. "Claim back some of the fun you folded and put away in lavender-scented drawers. They looked nice, Sharon, all folded up, and you thought you were practicing good self care."
Better to eat more gelato
Like the Velveteen Rabbit conversation, she suggested my fun have all the hair rubbed off it and get squishy joints. It doesn't deserve to be folded in a drawer, even if it is lavender-infused…
She also suggested more hair color. More laughter. Finding more people to share the vision with. Oh! I loved this lady, and she didn't look anything like Cinderella's Fairy Godmother, HBC, but she would have been her sister.
Write a Permission Slip. You know the ones, the hall passes you used to get in High School, the permission to do X,Y and Z. What if your inner principal gave you a permission slip for the rest of your life? What would it say? Some of the things on mine were:  Permission to be inconsistent. Permission to play the music too loud. Permission to feel and to mine for the feelings. Permission to express love, to be deserving of pure everlasting love.


This was the hardest list of all for me to write in. My inner principal is looking for another appointment. Summing it up, I think he wants to give me Permission to be happy.




Elizabeth gave me permission to do a creativity triage. Suggested we read this poem every day, and I will, by Louise Erdrich:
Advice to Myself

Leave the dishes.
Let the celery rot in the bottom drawer of the refrigerator
and an earthen scum harden on the kitchen floor.
Leave the black crumbs in the bottom of the toaster.
Throw the cracked bowl out and don't patch the cup.
Don't patch anything. Don't mend. Buy safety pins.
Don't even sew on a button.
Let the wind have its way, then the earth
that invades as dust and then the dead
foaming up in gray rolls underneath the couch.
Talk to them. Tell them they are welcome.
Don't keep all the pieces of the puzzles
or the doll's tiny shoes in pairs, don't worry
who uses whose toothbrush or if anything
matches, at all.
Except one word to another. Or a thought.
Pursue the authentic-decide first

what is authentic,
then go after it with all your heart.
Your heart, that place
you don't even think of cleaning out.
That closet stuffed with savage mementos.
Don't sort the paper clips from screws from saved baby teeth
or worry if we're all eating cereal for dinner
again. Don't answer the telephone, ever,
or weep over anything at all that breaks.
Pink molds will grow within those sealed cartons
in the refrigerator. Accept new forms of life
and talk to the dead
who drift in though the screened windows, who collect
patiently on the tops of food jars and books.
Recycle the mail, don't read it, don't read anything
except what destroys
the insulation between yourself and your experience
or what pulls down or what strikes at or what shatters
this ruse you call necessity.
My hope is that I be able to play in this arena forever and that all of you who chose to join me will find your lives inspired as much as I have been by all the wonderful people around me. Enjoy your Sunday, my friends. May it be this way forever…