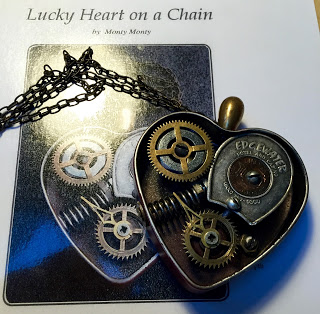 HEART IS THE SEAT OF THE SOUL-FOUND THINGS IN LIFE
What I love most about being a writer is finding things. Finding people, finding great stories, finding readers, finding tossed away things and repurposing them. I live in a recycled repurposed house. I don't like to throw away "junk" because those things inspire me, truly inspire me. If I could travel the world and explore the junk piles of every country, I'll bet I'd find objects that others throw away that could become incredible pieces of art, when put together.
If you examine this heart, (my new favorite artist from Healdsburg, California, Monty Monty) the piece says so many things to me. It has parts from the Edgewater Hotel & Casino (gamble on love?), gears from a timepiece now silenced (time for love? Love is timeless?) and a small child's heart-shaped pie tin (the passions of youth never flies away). He uses no soldering, just screws everything in place. Things once discarded are now made into a great piece of art I'm going to wear around my neck. Something a writer to muse on. A gift of love for someone special. You can see more of his works here. Other Sonoma County adventures here. More assembled art by inspirational Sebastopol artist, Patrick Arniot.
A writer's life is more than the sum of the parts. I worried about being a good writer when I first desired to be one in grammar school, then high school, then as a young bride, mother, and now as a grandmother. I have to say, this is the best time of my life. Yes my joints are creaky and the gravity still works against me in some respects, and I have lines of sorry and joy-lots of both (see my blog post on the Velveteen Rabbit, still my favorite children's book), but the stories in my head are always there, ruminating, thilling me, driving me forward, like the parts of my life I've lived, found and put together into my characters. In the process what I gain is not only satisfaction, but the friendship and bonding with readers all over the globe. I couldn't have done this in my twenties, thirties, or later. I had to be what I am now, with the stories of a lifetime and the emotional maturity to be able to look at them and organize them into a work of art, just like this Lucky Heart On A Chain.
I am reminded of our friendship with Jack Chandler, a client of ours in real estate some years ago we had the honor to be able to represent. He designs homes that are living works of art with all the whimsy and magic a true artist can inspire. Imagine living in an art piece. I mean, really living inside it!
My travels are calling me home, to Sonoma County, where I've lived all of my adult life. All the big changes in my life have happened here in this region. Like Babette's Feast, which is one of my favorite movies, I'm calling, like a pied piper, other authors and readers to come out and have a reading/signing/romantic Romancing The Vines party with me. Found things coming together. The magic of serendipity, the magic of writer friends I cannot wait to spend time with, and a sharing of the words of the heart, like this heart, all found and rejoicing together. How perfect to do this at Coppola Winery, where the movie sets and the magic and fantasy of The Godfather, Dracula, Tucker and others, are displayed near the tasting room of world class wines. If you are a reader or a writer, like our brand new Facebook page.
As a reader, you can sign up to attend this event here. If you are an author who has "found" this site and "found" me, and you want to come join the party, fill out this form for more information for the event. You won't want to miss it.
Kate Douglas, also a Sonoma County resident and one of the participating authors, and I had a wonderful afternoon together sipping water, nibbling on things at Portalupi Winery (I had to pick up my shipment), and gabbing over at a new coffee house in Healdsburg on the Square. She is like a long lost sister, a fellow writer I could spend weeks getting to know. Our paths have come from different places, but we've both arrived at this point, in this time, together. I can't wait to celebrate further with her, and all the other great authors coming.
Life is made up of found things: things of the heart and soul. Are you lost or are you found? If you've found this blog, I'd say we found each other. Let's never part. I believe in Happily Ever Afters, True Love Heals In The Gardens Of The Heart, everlasting explorations and adventures into the unknown. Please stay by my side and let's explore together!