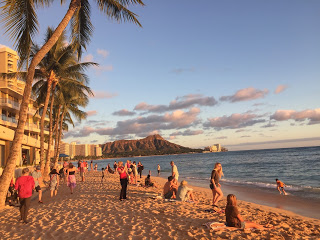 LEARNING IN THE LAND OF ALOHA
My mind is flooded with ideas and things I can do to help my writing career. I'm also very grateful to all the presenters and awesome authors who shared so freely and gave me such wonderful inspiration. We rarely get to go to things so jam packed with material. Although most of my pictures were taken in front or behind an umbrella drink, most of my time here has not been spent drinking.
I described my mind as "frizzy" like a bad hair day. It will take a couple of days to calm it down.
Getting to meet Hollywood people who have actually read and enjoyed my books was a super rush for me. I learned some things about what I need to do with a screen play to make it more packaged for the TV series I think it would work for. I also learned what had to be done to create the screen play for a movie, which is very different than the TV series.
There were lots of author platforms and retail platforms I hadn't considered using that I will now be doing. Learned the importance of FB ads and now I'll be getting blood with them.
Highlight was of course the Pearl Harbor tour, which I sponsored. The trip to the Arizona Memorial, the Mighty Mo, learning more about the Kamakaze pilot who perished on the deck of the Missouri. Saturday a small group of us signed books at Hickam AFB in the beautiful Community Center building built in the 1930's. I love that style architecture. We toured buildings on grounds that had absorbed divots in the concrete where Japanese rounds had landed. Viewed the flag that was standing that day, and the eternal flame commemorating all those who lost their lives.
I poked my head into the Officer's Club and I did feel like I'd been transported back to those days.
The beautiful beaches, outstanding food and drinks, the shopping, and weather was just a plus. I'd have come here if it was just for the classes, but to have all the other wonderful things about being in Hawaii too, well, it was indeed learning in Paradise. I go back richer in ideas and excitement, a little poorer in the pocketbook, but satisfied.