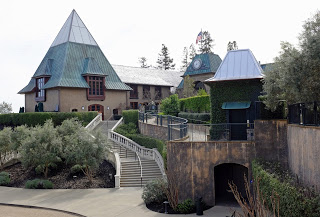 ROMANCING THE VINES – Days of Wine, Chocolate, Friends and the Love of Reading Romance
Wonderful to be able to enjoy all the best things in Sonoma County with some of my best friends. We had a turnout of readers better than my expectations. I had hopes it would be a good group, and it certainly was that. Thank you to all who helped promote the event and who showed up and helped the celebration yesterday was. To my fellow authors: Catherine Bybee, Marina Adair, Susan Stoker, Kathryn LeVeque, Carolyn Jewel, Diana Orgain, Lisa Hughey, Pam Gibson, Tiffany Snow and Kate Douglas and Lori Ryan – thank you thank you thank you!! Wonderful women, great players, awesome authors and super friends for life.
I am blown away by the generosity of my writer friends, who spent their weekend, and traveled far and wide just to come share in this vision. Coppola Winery was the perfect location. Yes, I admit, we are a bit out of the way and it isn't easy to get here, but that just means you have to come and stay a few days. We are a region, not a single destination.
Funning around the Godfather desk
Today eight of us are going on a limo tour of four great local wineries. Again, I can't wait. And it looks like the sunshine will be out for us.
Readers drove as far away as 4-5 hours away and built their whole weekends around this event. The winery crowd came from all over the world, and we met new readers from Boston, Denver, New York, even a family from Canada visiting Wine Country in all its glory. We had a steady stream of people here for the 5+ hours of the signing, yet the setting was small enough that we could intimately speak with people about our stories, our books, and share our lives.
I'm definitely planning one for next year.
Our author group at Francis Ford Coppola Winery book signing event
My voice is hoarse. I slept like a baby last night, finally able to relax after all the worry and planning. But what a treat to bring our world to all of you out there willing to listen and read our stories.
Tucker from Tucker, the movie. One of only 52 made