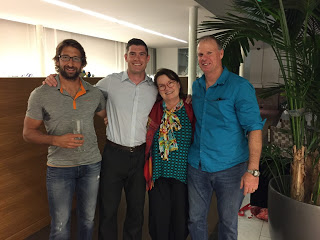 ROWING TO THE OLYMPICS AND OTHER PURSUITS
I'm in San Francisco at an Indie UnCon, sharing ideas and brainstorming with other author friends. I ditched my writer's hat and went across town to the Mission District Vanguard Properties office, to attend a special talk given by Matt Brown, National Elite-Level Single Scull Champion, and six time American Record Holder on the Concept2, Yale Grad, Masters Degree in Science and Medicine of Athletic Performance from University of Oxford, and Olympic Contender.
I love meeting people like this, because it reminds me of what I enjoy writing about my Navy SEALs. I've always been a student and avid fan of winning, of pushing ourselves to peak performance in all things in life. Anyone who endeavors to become an elite athlete like Matt and his partner Ricky are, understands the mindset it takes to win. And I'm not talking winning that hurts others, but winning for the sheer joy of winning, for the juice of life and the passion of being alive. It's what drives being in love, living a truly artful and passionate life, as well as achieving all our physical, mental and financial goals. I could attend a talk like Matt's every day for the rest of my life and still want more. I hope I never stop seeking this information.
Here's what he said, in a nutshell:
Vanguard office has a conference room in an old bank vault. Why not?
1. You have to be coachable, desire to set goals and obsessed with achieving that goal. I counted nearly thirty times Matt used the word Passion in his talk. As a romance writer, I get what he's talking about. Sure, we like our books sexy in the bedroom, fearless when it comes to throwing all caution to the wind and going for that perfect love experience – I get that my job is to deliver that elixir to my readers. And getting there requires I be coachable, that I set goals in several arenas (my energy level, my financial goals, my word count goals and new release or projects goals). Living a passionate lifestyle is what I'm all about. I had the cheesy grin in the back row all the way through his talk. And we weren't talking sex or romance, but it's all the same mental and emotional energy.
2. Passion means to suffer. He used examples of a rowing champion who suffered from severe dyslexia, so severe he sometimes had difficulty signing autographs. He had Type I Diabetes, had a family to support and a string of near career-ending injuries. But he was one of the most decorated champions the sport has ever produced. He didn't walk in and have it handed to him. He carved it out of granite.
Having that desire to fail is what leads to mastery. One of my early Real Estate affirmations I used to shout into the phone with my realtor mentor daily was, "I love rejection. The more rejection I get the larger my bank account becomes." Not a lot of people get this concept. It really has nothing about money and everything to do with seeking those things that will make us elite at whatever we do. The struggle, suffering that must occur is part of that track to Mastery. SEALs don't quit if they're going to become a SEAL. They practice with pain and suffering so they are ready for every eventuality they can think of. And even after that, mentally train for anything that might come up (and probably will) that they hadn't planned on.
Matt talked about it not being a dream to be an Olympian. It is his obsession. It isn't reasonable or realistic to want something so badly. Greatness transcends mediocraty.
3. Mastering the elite level is paved with tons of little achievements along the way, little daily victories, seeking failure, pushing ourselves to new extremes, never accepting that "reasonable" excuse not to have a life filled with passion and excellence. We used to train Realtors about repetitious boredom. Sticking to the path even when it's not as sexy or fun as we want it to be at the time. Learning to be uncomfortable. As my SEALs have been told, "getting comfortable with Dr. Death." We get better by seeking to expose ourselves to our limits, and then learn to push beyond them. If we never came up to that limit and push just a little harder, we'd never achieve it.
4. Discouragement and self-doubt are part of the process. It affects some people more than others. I loved his example of how coach Wooden took his dream team at UCLA and began coaching his young elite athlete recruits by first showing them how to tie their shoes. Some of these guys were saying, "Hey coach, don't you know who I am?" Being great starts with the little things, victory over little mindset lapses and emotional quagmires. Seeking them out and getting comfortable with the flame. Being excited about the danger involved. And it starts with the simple things. Wooden was teaching his players not to make the mistakes with the fundamentals. Do seek to push yourself to make the mistakes when you are testing your limits, but never the fundamentals.
5. Compete. I loved his concept of working competitively against another teammate to become better yourself. And what would it take to tell that person what you see as a flaw so that they could get better, therefore becoming a harder competitor against you. But you get great in the process. I love this. My Cheerios this morning! Don't be afraid to go for the gold medal, not the participation certificate. Losing is healthy if you learn from it.
6. Get comfortable with stress. The right kind of stress diverts energy to your working muscles. Mouth dryness when you are under stress is your body's way of giving your muscles every ounce of energy they require to perform at an elite level. But worry, is a wasted energy. Pushing to failure is the good side of it. Worry is the destroyer of everything. I got a great character image of a SEAL I'm going to use in my next book, who will go on a date with someone he's terrified around. It will feel like he's just had a shot of espresso and attending a really nasty Horror film with the love of his life. LOL. I loved hearing this. Nothing is more terrifying than letting go, falling in love and allowing that to become life-changing. "Get those butterflies in your stomach and make them fly in formation," was his quote.
7. Great competitors are great actors. (Yes, J.D., this is for you!!) To become master at anything you have to take how you really feel, and turn it into the way you need to feel to do the job. I used to say it all the time in real estate. We aren't salesmen. We are entertainers. Being someone who can do something even though they are feeling something else is a skillset that isn't given, it's learned, and actors do it every day. Your brain and body don't know the difference between the real smile and the "fake" smile. Life is about performance, not just living. Religion is a practice. Marriage or being insanely in love is a practice. Living with purpose and passion, playing a role, fulfilling a destiny. Playing big. Feeling strong. Playing for keeps, like it matters, because it certainly does.
8. You have to be tough as nails. Nuts to say we get the most joy out of the toughest things in our lives, but when we are in training for anything in life, it's true. Toughness is learned, again, not organically bubbles up. It's created by the unique little things we achieve every day. The little joys that add up to a life chock full of everything, especially love and the love of life.Writing about Navy SEALs reminds me about that part of myself that is a SEAL.
Even superheroes need to practice
I've mentioned it before, but getting comfortable with mistakes, making a fool of yourself, pushing to the next level is how you learn to be tough.
There was much more I could write about, but not all of you are going to read all of this. I make no apology for being inspired this morning. The right people will show up to read this, and it will mean the right things to those right people.
We are not lost, we are found. Have I found you? Have you found me? Are we on this path together?
Have the best day of your life today. I sincerely mean that.