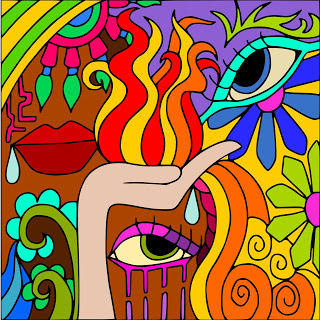 Writing With My Hair On Fire
Well, Alex has been having his way with me now for about a week. I've been dancing around him, hiding, and he's found me. It's all because my story has been supressed too long because I've been traveling, and doing other things.
I was answering some emails for my Newsletter (are you a subscriber yet???) and something hit me. I fall in love several times a year with new characters. I mean I do have a mental affair with them. Full on. Yup. And when the book is done, they have left me.
I'm very sensitive about the leaving part because I'm not a quitter. I hate people who quit. Sometimes I should do more of it, but I've been mourning the death of my last hero, and Alex has been bringing me flowers (mentally) and coming to bed with me in my dreams and dang it. SO THAT'S WHAT'S BEEN WRONG WITH ME.


I picked up this book about an erotic journal written that the heroine reads, and she is pulled into the journal-owner's story, until it abruptly ends. I'm not going to tell you the name of the book, because I can't recommend it – but I bought it because I have a story with some similar elements, Be With Me. It's about a woman who works in an antique bookstore and has an increasingly real encounter with a 19th Century British explorer. Oh those scenes at the Waterwheel Inn in Kenwood are so damned real, he comes to me, with his handlebar moustache, when I'm swimming nekked in the steamy pool at midnight.
And then it hit me. There is this character sneaking up on me, stalking me, and trying to get hold of my heart, and I've been shutting him out.
I love my rich fantasy life, because it's better than real life sometimes. I go there whenever I can. I like creating the stories as much as reading others, but since I'm a slow reader and a fast writer, it works better for me to make up my own stories.
So now I've got this Alex guy hanging around my desk, whispering in my ear, laughing at how manic I become sometimes. He has told me he'll help me get over the last hero who left me. Because that's what goes on in the heart and brain of this crazy writer. I fall in love, and they ALWAYS leave me.
But now I've discovered the cure: find another fantasy lover. And just like my original Date with Daniel some 6 years ago (an exercise to help me fall back in love with my first hero when I'd fallen for the bad guy), my time with Alex is promising. He's an adrenaline junkie. He likes strong coffee, loves to sky dive. Loves demolition derbys and loves working in the garden with me. In fact, we picked out two tomato plants, some broccoli, kale and some sweet peas. And he made me order Sweet Potatoes from the catalog along with red "sugar" cherry tomato seeds.
I'm listening to romantic Italian music from the 1930's and who knows, maybe I'll go back to that ship in India and go visit the Captain when he stops by the Waterwheel Inn to check on his journal. And then I hear the gypsy music in Prague and I'm all about the vampires again. Oh, what's a girl to do?