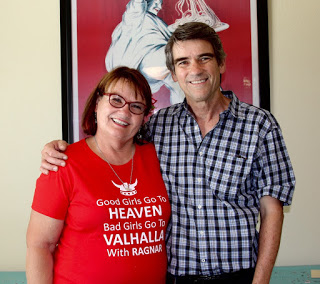 My Little Brother Retires!
My little brother, after years of commuting from Petaluma to the City and beyond, is retiring. I'm so happy for him, for his roses, his garden, his lovely wife and his beautiful daughter. They will finally get to spend more time with this wonderful man.
Would you believe in all the years growing up and even now, we have never argued? I mean, not once! Considering how I seem to get into it with other family members from time to time – not often – but I speak my mind – we've never had a cross word. I don't know how that happened, but nothing was important enough to blow our friendship over.
Getting up to Roseville was a long 2+ hour drive in nearly bumper-to-bumper traffic. And coming home was no different. My husband drove 5 hours total yesterday, but it was so worth it. I left my purse there, but luckily my daughter will return it to me today.
Darrell has lots of things he wants to do with his time – volunteer work and things he's never had time for until now.
Will I ever retire? I laugh to think my YOUNGER brother is retiring. Do any of us ever really retire? I don't think so. Not if we have a long, loving and family or friend-filled life. Not if we do the things of our heart and soul. Not if we bring value and love to other people's lives.
Our parents are gone, but I think the spirit of their love and support was there yesterday. We shared many memories of family events from the past, and many of the cousins and relatives from nearby, some driving greater distances, shared in the celebration. We miss those gone, but we celebrate life and life's changes.
Oh yes, and I got to pass out some bookmarks. Like I said, I don't think I'll ever retire. And that's a good thing, right?