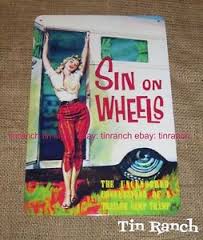 GLAMPING! – Sin On Wheels with Romance Rider
Last year I made a minor investment in my writing career by purchasing a 1950 Glider. It's 27′ and she's all original. A fragile babe, like me.
I had my eyes opened to Glamping, which is, camping with trailers, but tricking them out. So here are some pictures that are inspirations to me. My Glider, named, Romance Rider, will be just as cute, but I'm waiting until the power gets turned on, I have a cold refrig for my drinks, so I can run a blender and a coffee maker, and have air conditioning.
I used the idea of Glamping in my new novella, Love Me Tender, Love You Hard. My hero, Derek, interviews for a job at a wild animal park nearby, run by a former SEAL with one leg. Oh yes, you're gonna love this "sweet" novella, (told someone else today my editor is probably going to think I'm writing from a hospital bed), full of quirks and twists. Short, and to the point. All that a novella should be in a Kindle World.
So glamping is a new thing people do now. I know people who collect old trailers for their backyards used as pool houses, or guest houses. Some of the wineries in our valley have started using them in the Air B&B craze, and people pay hundreds of bucks to stay in them now. Especially cool are vintage Airstreams.
While not an Airstream, Glider was made by a sister company who also made (you guessed it), airplane gliders.
I've given you an interior look at my plain Glider. There are two videos:  One,  Two.  More to come. But after a year, it's finally in place. We wanted to build a firm pad to protect the frame, an overhang to product the beautiful aluminum finish and protect it also from the leaves and elements in general. We'll have a deck and two lawn chairs and who knows what else. I even bought a stopsign and a no parking sign.
So tell me, are you a glamour girl or guy? Would you come glamping with me? Just think of the adventures we could have together!
Warning!! If you click on some of these images, you'll be hooked!
Some Glamping ideas from around the world here.
Glamping in Wine Country
Flippin RVs TV Show
Wanna Buy One? Subscribe to a Blog?
Sisters On The Fly for sale
1949 Glider – Tin Can Tourist