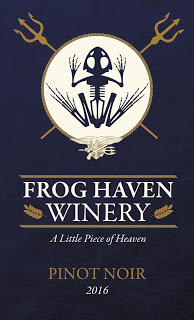 Greetings from Frog Haven Winery!
I'm Amy Chambers, your hostess for this Thanksgiving event. Zak and I are so happy you've decided to join us. We've set a table up outside on the porch, so we all have a place to sit together. Zak found some timbers he and Marco Zapparelli salvaged from the winery construction next door. These huge timbers used to hold up part of the tower that fell during the bombing at Zapparelli Winery, and is now being restored. Since they are nearly twenty feet long, we can serve all of our best friends!
Things here are much simpler than over at Marco's winery (and he says hi, by the way). The crush is fermenting and we've had a decent harvest. We've interviewed and are hiring our first real winemaker shortly. Up to now, we've had nothing but research going on and instead of a lab, we have our kitchen. We are getting ready to make our first batch of beer. Zak has been experimenting with fermentations, but without the hops we've grown. I've attached a picture of our harvest.
Marco has brought over his favorite Cabernet Franc blend. Nick and Devon and their little one are coming and they're bringing some of their wines that placed at the LA County Fair as well as the Sonoma County Harvest Fair. Sophie's Choice winery has beautiful lavender tee shirts for everyone. Do you like the lavender logo she designed? She's promised to bring some samples of her lavender-infused soaps and salt scrubs, and should have a whole line of bath products available next year.
Next year, some of our first Frog Piss and Punish Yourself Beer will be available in the tasting room, and soon to be in your local store. So, here's the menu:
Main Course & Soup
Willie Bird Turkey (we have three: 1 brined and baked, one stuffed and baked and one deep fried).
Mashed potatoes from Nick and Devon's garden
Giblets Gravy (Amy's specialty)
Sweet potato mash with sugared sour cherries garnish
Zucchini torte with cranberry garnish
String Beans with bacon (Zak's mother's recipe)
Fresh Acorn Squash Soup
Stuffed red, yellow and orange bell peppers with wild rice and cheese
Amy's famous whole wheat biscuits
Grandma Chamber's cranberry sauce
Pineapple/kiwi/tangelo and apple fruit salad with nutmeg and Cointreau garnish
Romaine lettuce salad with Caesar dressing
Marco Zapparelli's homemade linguini pasta with Mama Zapparelli's famous 100-year old meat ball sauce
Dessert
Lime Meringue Pie
Marco Zappareli's tiramisu
Hand cranked Coconut ice cream
Raspberry and blueberry sorbet
Pumpkin Pie and whipped cream
Hope you come with a big appetite. And come to our table with a thankful heart. Each of us will tell our table what we are most thankful for this year.
Many blessings.
Share this blog post with someone else, or on your FB page, share the link in the comments, and one commenter will win all 4 labels (yes, these are real labels). They are suitable for putting on your own bottle of wine or beer!
Happy Thanksgiving!