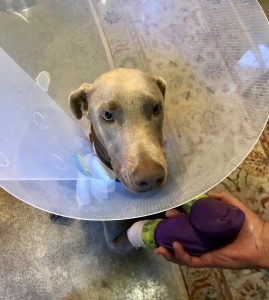 Tucker's days of being a care-free teenager are over. He had his little "visit" to the vet, and now is adjusting to the cone they placed on his neck to keep him from getting at the stitches. He knew the vet visit was something more than just shots. They also had to remove his dew claws, and kept him overnight. Yesterday, when we picked him up, the whole staff told me over and over again how everyone had fallen in love with him. Dr. Hoskins said he was the best Doberman he'd ever met. That says a lot from someone who's been in business over 40 years.
Tucker does that to people. He certainly does that to me.
I took pity on him and agreed to let him sleep on my bed. He likes to snuggle, and, cone and all, he attempted to do it last night. I think overall I got about 3-4 hours of sleep, and none of it in long stretches, so my energy level is a little on the slow side today. But he's worth it. After raising 4 kids, I'm still a full-time mother, with this new little one, and the previous Dobermans we've had, and of course Blue and Rosa, the ones we have now.
We aren't a red, white and blue family. We're Red, Tan, and Blue. Tucker is the tan, Rosa is the rose, and of course Blue is the blue. We like to keep things simple around here.
One of Tucker's favorite things to do is to run "balls to the wall" as my SEALs say (which is now not possible), trying to overtake Blue, who is a 90 pound very strong male. Tucker is now 66 pounds, but he's fast, and he's just been able recently to beat Blue. That's been a source of conflict for the two males. The vet said, as we were leaving, "Just make sure he doesn't run for the next 14 days."
He came home, and was excited to see Blue and Rosa. The first time he tried to give them a kiss, he (of course) hit them both with the cone. So he got growled at.
It took him a couple of seconds, but he sat down and I could see he was considering his new standing with his pack. Rejected. His friendship refused. Right there, he laid down, sighed and took a nap.
I suppose we'll all get used to the bruises that darned cone leaves on our shins. He hits every cabinet handle in the kitchen when he's passing through. But he's learned how to walk down the stairs, keeping his head high enough so he doesn't choke himself on every step. But 14 days does sure seem like a long time.
Tucker's worth it. I'll bet you mother your pets too. This sound familiar?