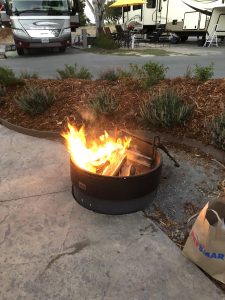 I'm learning to adjust to the Glamping thing. Our coach is everything I'd hoped it would be. Coming from a large two-story home on acreage, where I had my own bedroom, now sharing a bed with my husband and usually Tucker, our dog, has not been as difficult as I feared. Helps that the bed is wonderful to sleep on. The room is dark, which is something I never had in my old bedroom. I mean, even the stars would keep me up at night and the moon used to glow right into my window. I could hear animals in the brush all night long, and even the sounds of owls would keep me awake. I was opposed to black-out shades. Stubborn, you know.
But our tiny bedroom is cozy, and always smells like laundry since I do a load nearly every day. That's a pleasant smell for me, and brings back memories of my mother, who liked to do laundry like I do! Something about clean clothes and things fresh from the dryer with those wonderful scents. I use lavender for my delicates and sleepwear, and cool breeze scents for my jeans and shirts.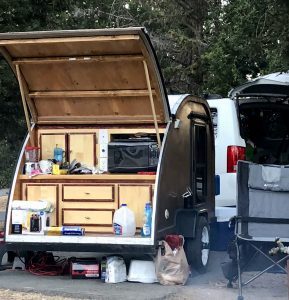 I also wasn't sure what it would be like to live so close to so many other people. I rather like it. I've met folks from all over the country — including a woman from the UK who was a hippie and just this year finally made it to San Francisco. Some people come in million-dollar rigs, others in little tear-drops. Since we walk Tucker 2-3 times a day, we've socialized with other dog owners. Met a guest conductor, several horse trainers, a retired Pentagon official, retired cattle rancher, and a bank manager. This week met two couples from Virginia and Texas, both who had sold their big homes, and were permanent travelers. And more and more of their friends are doing the same.
Last night I was struck with the sounds of children playing. I remember those days, with our four. I'd forgotten what a lovely sound it is. Growing up, I used to love family gatherings in the Central Valley, (my grandmother and two of her sisters married my grandfather and two of his brothers), where I was one of the oldest cousins. My favorite cousin, Ronnie, and I would run that little band of ruffians all over the ranch. We had a ball. I can remember going to bed at night all sweaty and breathing so hard I wasn't sure I'd ever catch my breath! Last night I watched teams of pre-teen boys chasing pre-teen girls — that age-old game of cat and mouse. It was so refreshing that it didn't involve any politics, or religion or international affairs. We barbequed hamburgers and made s'mores. It felt just normal.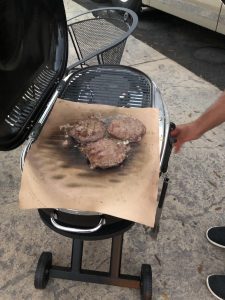 I love looking at people's set-ups, how they set their tables, how they arrange their lawn chairs, what activities they do. This one picture with the small chairs and small table all set up was priceless!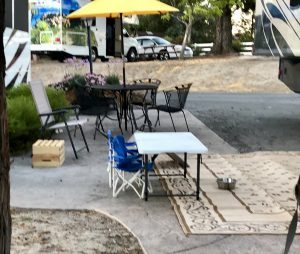 People decorate their coaches on Saturday nights with lights and solar flamingos — it's kind of a contest. I love the smell of the campfires and the music or TV programs coming from the coaches, the families or baseball teams roasting marshmallows over the firepit. Before dark the park owner drives a small tractor through the park, pulling several "buckets" of kids he picks up along the way. They brought in a couple of miniature horses yesterday, and the jumping pillow (trampoline) was full. So was the pool.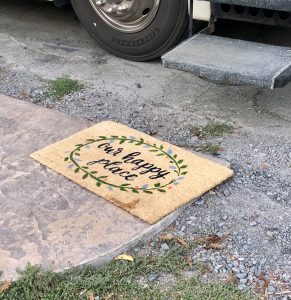 Living so isolated, I had missed all this. I have to say I'm thoroughly enjoying life. I find it's stimulating for my writing as well, as well as soothing to my soul. It's almost like I've plugged in. Oh yes, I'm still behind on some things, but part of my routine is to daydream, to dabble, to wander and get lost and find myself again. It's like being in an airport for me. I love watching the people and their interactions.
I thought of myself as a recluse. I've proven that I'm more connected, and need that connection. And, especially these days, it's way more fun to watch the campground drama than just about anything else. It's humorous, colorful and bursting with life!