What's the Best Gift You've Ever Been Given?
"Kindness is like snow—it beautifies everything it covers." – Kahlil Gibran
Disneyland is known as the place where dreams come true, and I know this for a fact. On one visit to Disneyland in 2007, we were delighted when it started snowing. The white, fluffy flakes added another layer of magic to the park's Christmas on Main Street.
Back when this happened, I never dreamed it would someday connect me to one of you. You can imagine how surprised I was when I received this story from a reader who replied to a recent newsletter asking about the best gift subscribers have ever been given.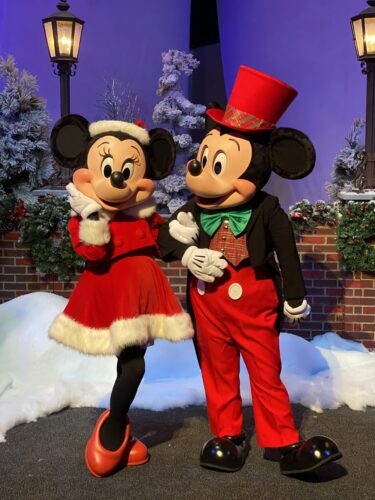 The best gift I've ever been given? It's a bit of a story.

I grew up in Upstate NY, and Christmases were always white. I LOVED Christmas snow.
Then I grew up and moved away. The only time I miss the snow is at Christmas time, and I really miss it then. I don't miss having to wear 52 1/2 pounds of coats, shoveling snow, getting stuck in the snow, or freezing my toes nearly off because there's a hole in my boot while I put the chains on the car.

What I do miss is driving past houses at night with the pine trees in their front yards festooned with Christmas lights and covered in the newly fallen snow so that they glow from the inside. Seeing people's Christmas trees in their front picture windows, all covered in lights, ornaments, and shiny icicles on every branch.
But most of all, the VERY most of all, I miss the big, fat, fluffy flakes of snow falling gracefully from the sky on Christmas Eve.

The whole of the 20-plus years I was married to my ex-husband, every year he would ask me what I wanted for Christmas. And every year, I would give him the same answer. Snow. I wanted snow for Christmas. It never happened- he would ridicule me for asking.

Then we got divorced, and several years later, I met my Sweetie. He is the kindest, sweetest, most loving man I have ever had in my life, and I am SO very lucky. That very first Christmas we were together, he asked me what I wanted for Christmas. I told him: snow.

He took me to Disneyland, and one evening in 2007, before Christmas on Main Street in Disneyland, there was a 51-year-old woman standing in the street with her face up to the sky, watching the snow come down and crying because she had been given her heart's desire for Christmas.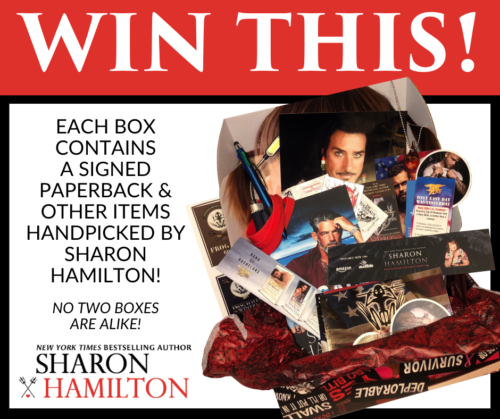 Christmas is one of my favorite holidays, so I'm giving away a prize box every day from December 1st through the 12th. It's limited to members of the Rockin' Romance Readers group on Facebook!
Each prize box is different and contains a signed paperback and other goodies hand-picked by me. No two boxes are alike!
If you aren't a member, you can head over and join now to get your name in my magic Santa hat before the contest ends, but hurry because only a few days remain.
And if you can't wait to try and win goodies, or if you're reading this after December 12th, you can find many of the items in my online swag shop > https://shop.authorsharonhamilton.com.
Good luck to all who enter the contest!